Crap Taxidermy (Hardcover)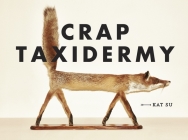 $12.99

Usually Ships in 1-5 Days
Description
---
A humorous look at what happens when taxidermy goes terribly wrong, by the founder of the hit website crappytaxidermy.com.

A relaxed toad enjoying a smoke and a brew. A cat with eerily flexible front legs. A smiling lion with receding gums. Whether you choose to laugh or cringe at these spectacularly bad attempts at taxidermy, you won't be able to tear your eyes away from the curiosities inside. This volume brings together the very best of the worst (along with a DIY "Stuff Your Own Mouse" lesson by an Insect Preparator from the American Museum of Natural History), showcasing the most perverse yet imaginative anatomical reconstructions of the animal kingdom you'll ever see.
About the Author
---
KAT SU is the creator of the popular Tumblr crappytaxidermy.com, an activewear designer, and now a reluctant amateur taxidermist residing in NYC.
Praise For…
---
Featured in Entertainment Weekly's "Must List"

"Sick, right? Yes. But, also, let's face it, kinda funny." -- Esquire.com
215-862-2452
farleysbookshop@netscape.net
Situated on the main street of the historic Delaware Riverfront town of New Hope, Pennsylvania, Farley's Bookshop and its knowledgeable, experienced staff have endeavored to satisfy the literary tastes of the area inhabitants for over fifty years. Whether you are Bucks County born-and-bred or just stopping by to enjoy the crisp river air and delightful scenery, you will be pleasantly surprised to find the largest and most diverse collection of books-in-print in Bucks County. Farley's may have competition, but it has few peers. We encourage you to browse our website, but please remember that getting acquainted with our online persona is no substitute for exploring the narrow passageways and teeming shelves of our storefront and discovering that perfect book nestled amongst so many others.