Alabama Studio Sewing Patterns: A Guide to Customizing a Hand-Stitched Alabama Chanin Wardrobe (Hardcover)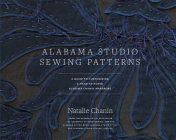 Description
---
Alabama Studio Sewing Patterns: A Guide to Customizing a Hand-Stitched Alabama Chanin Wardrobe
by Natalie Chanin is a companion to the Alabama Studio Series:
Alabama Stitch Book, Alabama Studio Style,
and
Alabama Studio Sewing + Design
. In this final volume of the four-book series, Chanin offers, by popular demand, three new core patterns—the A-Line Dress/Tunic/Top, the Long and Short Wrap Skirt, and the Classic Coat/Jacket/Cardigan—and a guide to customizing garments to fit and flatter. For ease, convenience, and to ease its ecological footprint, this book comes with a CD rather than paper patterns. The disc contains patterns for all of the garments from the previous books in the Alabama Studio series with additional sizing for XXL, the three new patterns, plus five Alabama Chanin stencil designs, including the Polka Dot in three sizes, the popular New Leaves, and the classic Magdalena (all for readers to print as needed for their individual sewing purposes). Printed and bound in the USA.
This installment highlights:
9 core garment patterns with up to 34 standard variations, plus 3 bonus pocket patterns
Patterns from the entire Alabama Studio book series with the additional XXL size
5 full-scale stencil designs, plus a free bonus download available from Alabama Chanin's website (http://alabamachanin.com/resources/large-scallops-stencil-artwork)
Useful, convenient CD that minimizes its ecological footprint by conserving paper
Printed in the USA
About the Author
---
Natalie Chanin is the founder and head designer of Alabama Chanin and the author of five books, including bestsellers The Geometry of Hand Sewing and Alabama Studio Sewing Patterns. Her work has been featured in Vogue, the New York Times, and Town & Country, among other publications, and on CBS News. She is a member of the Council of Fashion Designers of America. She lives in Florence, Alabama.
215-862-2452
farleysbookshop@netscape.net
Situated on the main street of the historic Delaware Riverfront town of New Hope, Pennsylvania, Farley's Bookshop and its knowledgeable, experienced staff have endeavored to satisfy the literary tastes of the area inhabitants for over fifty years. Whether you are Bucks County born-and-bred or just stopping by to enjoy the crisp river air and delightful scenery, you will be pleasantly surprised to find the largest and most diverse collection of books-in-print in Bucks County. Farley's may have competition, but it has few peers. We encourage you to browse our website, but please remember that getting acquainted with our online persona is no substitute for exploring the narrow passageways and teeming shelves of our storefront and discovering that perfect book nestled amongst so many others.