Scott Pilgrim Color Collection Box Set (Paperback)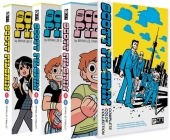 Description
---
The New York Times bestselling series, and basis for the movie Scott Pilgrim vs. The World, is now available in a new full-color softcover format!

This Color Collection Box Set collects all six volumes of the award-winning series in three massive books that might wreak havoc on your bookshelf. But the memories will be worth it! Laugh as slacker Scott Pilgrim tries and sometimes fails to get his life together and win the heart of the literal girl of his dreams, Ramona Flowers! Cry when things look bleak for our heroes! Make a confused face at the countless Canadian references! (Unless you live in Canada already.) The perfect gift for a Scottoholic—or for anyone discovering the bestselling series for the first time.
About the Author
---
Bryan Lee O'Malley is a Canadian cartoonist currently living in Los Angeles. His six-volume Scott Pilgrim series was a New York Times bestseller, an LA Times Book Prize finalist, and won an Eisner Award, two Harvey Awards, a Doug Wright Award, and a Joe Shuster Award. In 2010, Scott Pilgrim was adapted into a critically-acclaimed major motion picture (from Universal) and video game (from Ubisoft). His books (including Lost at Sea, Seconds, and Snotgirl) have been translated into over 20 languages.
Situated on the main street of the historic Delaware Riverfront town of New Hope, Pennsylvania, Farley's Bookshop and its knowledgeable, experienced staff have endeavored to satisfy the literary tastes of the area inhabitants for over fifty years. Whether you are Bucks County born-and-bred or just stopping by to enjoy the crisp river air and delightful scenery, you will be pleasantly surprised to find the largest and most diverse collection of books-in-print in Bucks County. Farley's may have competition, but it has few peers. We encourage you to browse our website, but please remember that getting acquainted with our online persona is no substitute for exploring the narrow passageways and teeming shelves of our storefront and discovering that perfect book nestled amongst so many others.