Dusk Explorers (Hardcover)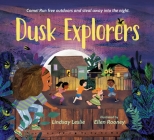 $17.99

Usually Ships in 1-5 Days
Description
---
It's that special time of evening, when the hours and the possibilities seem endless: Light is fading. A buzz of excitement and wonder takes over the neighborhood....What outdoor adventures await? Join a diverse group of suburban kids as they dash and dodge in classic street games like tag and kick-the-can and reconnect with nature's simple pleasures catching frogs, hunting fireflies, and climbing trees. These explorers play, laugh, and make the most of their own front yards right up until their parents call out that "It's time to come home!" But when the sun begins to set tomorrow, they'll be back for more evening excitement!

This ode to the timeless magic of summer evenings spent outside will remind kids of the fun and friends that wait just outside their doors and leave adults smiling with nostalgia for their own dusk explorations.
About the Author
---
Lindsay Leslie, author of This Book Is Spineless and Nova the Star Eater, enjoys spending evenings outdoors. She graduated from the University of Texas and has more than fifteen years of writing experience in marketing and public relations. She lives with her husband and two boys in Austin, Texas.

Ellen Rooney, who also illustrated Her Fearless Run, loves illustrating and designing nature-related work. She has her BFA from the University of Victoria. A painter, printmaker, and collage artist, she resides in British Columbia, Canada, with her husband.
215-862-2452
farleysbookshop@netscape.net
Situated on the main street of the historic Delaware Riverfront town of New Hope, Pennsylvania, Farley's Bookshop and its knowledgeable, experienced staff have endeavored to satisfy the literary tastes of the area inhabitants for over fifty years. Whether you are Bucks County born-and-bred or just stopping by to enjoy the crisp river air and delightful scenery, you will be pleasantly surprised to find the largest and most diverse collection of books-in-print in Bucks County. Farley's may have competition, but it has few peers. We encourage you to browse our website, but please remember that getting acquainted with our online persona is no substitute for exploring the narrow passageways and teeming shelves of our storefront and discovering that perfect book nestled amongst so many others.