The Art of Direction (Hardcover)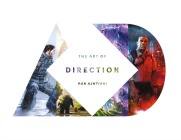 $54.95

Usually Ships in 1-5 Days
Description
---
Ron Ashtiani brings together twenty-five years of experience directing creative projects for games and film to share what it takes to be a successful art director in the entertainment industry today. Using his well-honed art direction skills and diverse project experience, real-world examples, and clear diagrams, he educates his readers on every element of stellar art design for both video games and movies.
Providing creative and business leadership, as well as being a specialist consultant and regular industry and educational public speaker, he is one of the most resourceful and well-educated practitioners in the field of video game and movie art design, making him perfectly poised to teach others in the industry.
The fully illustrated
The Art of Direction
book, leads the reader on the journey of the art director, from how to craft an artistic vision to how to successfully manage a team of artists in bringing that vision to life and making the best creative decisions along the way.
215-862-2452
farleysbookshop@netscape.net
Situated on the main street of the historic Delaware Riverfront town of New Hope, Pennsylvania, Farley's Bookshop and its knowledgeable, experienced staff have endeavored to satisfy the literary tastes of the area inhabitants for over fifty years. Whether you are Bucks County born-and-bred or just stopping by to enjoy the crisp river air and delightful scenery, you will be pleasantly surprised to find the largest and most diverse collection of books-in-print in Bucks County. Farley's may have competition, but it has few peers. We encourage you to browse our website, but please remember that getting acquainted with our online persona is no substitute for exploring the narrow passageways and teeming shelves of our storefront and discovering that perfect book nestled amongst so many others.