The Only Fish in the Sea (Hardcover)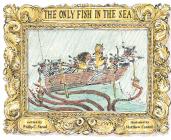 Description
---
Did you hear about little Amy Scott? She got a goldfish for her birthday and then just threw it in the ocean! That doesn't seem right.

I guess Sherman and Sadie will have to go save little Ellsworth (every fish deserves a proper name) on their own. They'll need:

A boat
Fishing gear
Twenty-one pink balloons
A bucket of paint
And
Appropriate headwear in case of weather—good or bad

Don't worry. Ellsworth is in good hands now, but what ever happened to little Amy Scott?

Join Sadie (Special Delivery) on another adventure in The Only Fish in the Sea, a delightful picture book by Philip C. Stead and Matthew Cordell.

A Neal Porter Book
About the Author
---
PHILIP C. STEAD is the author of the Caldecott Medal winning A Sick Day for Amos McGee, also named a New York Times Best Illustrated Book of 2010 and a Publishers Weekly Best Children's Book of 2010, illustrated by his wife, Erin E. Stead (A Neal Porter Book, Roaring Brook Press, 2010).  Philip, also an artist, both wrote and illustrated his debut Creamed Tuna Fish and Peas on Toast (Roaring Brook Press, 2009), which was applauded by School Library Journal for "its wry humor and illustrations worthy of a Roald Dahl creation."  Philip lives with Erin in Ann Arbor, Michigan.
Matthew Cordell
is the author and illustrator of Caldecott award winner
Wolf in the Snow,
Trouble Gum
,
Another Brother
,
hello! hello!
, and
Wish
. He has illustrated the books of renowned authors including Philip Stead (
Special Delivery
), Rachel Vail (the Justin Case series), and Gail Carson Levine (
Forgive Me, I Meant To Do It
). He lives outside of Chicago with his wife, the novelist Julie Halpern, and their two children.
Praise For…
---
*"A contemporary tall tale fueled by the characters' genuine caring and heart. Best read one-on-one to feast on the clever cartoon artwork."—School Library Journal, starred review

*"This is comforting fare for children, especially those who themselves have been cast adrift, and sensitive readers in more secure situations may even spare some sympathy for Little Amy."—Booklist, starred review

*"Stead never takes Sadie's campaign for virtue too seriously, yet her shining sense of justice lingers long after the silliness subsides."—Publishers Weekly, starred review

*"Readers who are looking for more moxie in their lives will love this absurd adventure."—Kirkus Reviews, starred review

"Throughout, Cordell's style is reminiscent of Quentin Blake's work, with comically perilous seafaring scenes that recall the Miss Armitage picture books. Meanwhile, Stead's text contains echoes of Dahl's writing, with moments of dark humor, a satisfying comeuppance for Little Amy Scott, and a surfeit of heart in the child heroes' rescue of lost Ellsworth."—Horn Book
215-862-2452
farleysbookshop@netscape.net
Situated on the main street of the historic Delaware Riverfront town of New Hope, Pennsylvania, Farley's Bookshop and its knowledgeable, experienced staff have endeavored to satisfy the literary tastes of the area inhabitants for over fifty years. Whether you are Bucks County born-and-bred or just stopping by to enjoy the crisp river air and delightful scenery, you will be pleasantly surprised to find the largest and most diverse collection of books-in-print in Bucks County. Farley's may have competition, but it has few peers. We encourage you to browse our website, but please remember that getting acquainted with our online persona is no substitute for exploring the narrow passageways and teeming shelves of our storefront and discovering that perfect book nestled amongst so many others.