Avalanche Dog Heroes: Piper and Friends Learn to Search the Snow (Hardcover)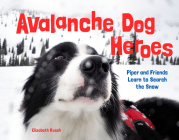 $18.99

Usually Ships in 1-5 Days
Description
---
Junior Library Guild Selection!
2020 Towner Book Award Finalist
Oregon Spirit Award Honor Book

Follow Piper the border collie and her canine classmates through a season of avalanche rescue training. As they learn the skills they need to become snow rescue dogs, you'll learn about the work these amazing canines do and about avalanche safety.

Avalanche Dog Heroes is a nonfiction picture book illustrated with stunning, adorable photography that draws parallels between kids' experiences in elementary school and the training days of the avalanche rescue dogs of Crystal Mountain, Washington State's largest ski resort, located in the Cascade Range.

Follow along with Piper, a friendly border collie who came to the mountain as a smart but timid shelter dog, terrified by everything, as she confidently heads off to school on a chairlift to meet her canine classmates. Over a season they romp together through the snow, learning and practicing the skills they need to be avalanche rescue dogs and earn their rescue certification.

You'll also learn the warning signs and conditions that cause an avalanche, the four types of avalanches, and the basics of avalanche safety.
About the Author
---
ELIZABETH RUSCH has published more than 100 magazine articles for children and adults and 10 award-winning books for young readers, including Ready, Set . . . Baby!; Volcano Rising; Eruption!: Volcanoes and the Science of Saving Lives; and Electrical Wizard: How Nikola Tesla Lit Up the World. Her work has been honored by the Junior Library Guild, ALA, School Library Journal, Kirkus, NBC News, the Oregon Book Award, Washington Reads, and the New York Public Library. She lives in Portland, Oregon, with her husband, two terrific kids, and one very funny, quirky dog named Reba.
Praise For…
---
"The full-color, full-bleed photographs are the book's best features. Almost every spread captures a dynamic dog training scene amid beautiful snowscapes."--School Library Journal

"Present-tense narration paired with dynamic color photographs puts readers in the moment with Piper ... A peppy introduction to a lesser-known type of worker dog." --Kirkus Reviews

"Rusch emphasizes how the training of the dogs is both hard work and fun—a point made clear through photographs of Piper dashing through the snow, chewing on toys, and embracing Cohen."--Publishers Weekly

"Avalanche Dog Heroes is a fine addition to any collection. Display it prominently and it won't sit."--ProseandKahn


"Of special note is that with "Avalanche Dog Heroes", children will also learn the warning signs and conditions that cause an avalanche, the four types of avalanches, and the basics of avalanche safety, making it an especially welcome and unreservedly recommended addition to family, elementary school, and community library Pets/Wildlife picture book collections."--Midwest Book Review

"With great pictures, cute dogs, and something unique to learn about…this book is a winner for winter!" --The Delphos Herald
Situated on the main street of the historic Delaware Riverfront town of New Hope, Pennsylvania, Farley's Bookshop and its knowledgeable, experienced staff have endeavored to satisfy the literary tastes of the area inhabitants for over fifty years. Whether you are Bucks County born-and-bred or just stopping by to enjoy the crisp river air and delightful scenery, you will be pleasantly surprised to find the largest and most diverse collection of books-in-print in Bucks County. Farley's may have competition, but it has few peers. We encourage you to browse our website, but please remember that getting acquainted with our online persona is no substitute for exploring the narrow passageways and teeming shelves of our storefront and discovering that perfect book nestled amongst so many others.