Baby Loves Science Board Boxed Set (Boxed Set)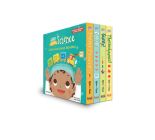 Description
---
Satisfy your baby's growing curiosity about the world with big, brainy science for the littlest listeners.

Accurate enough to be endorsed by an expert, yet simple enough for baby, this clever board book boxed set, complete with an adorable periodic table poster of the alphabet, introduces topics like coding, aerospace engineering, gravity, and thermodynamics, connecting each scientific idea to pieces of a baby's world. Beautiful, visually stimulating illustrations and age-appropriate language encourage baby's sense of wonder. Parents and caregivers may learn a thing or two, as well!

Includes four Baby Loves Science board books and an adorable periodic table poster of the alphabet.
About the Author
---
Ruth Spiro is the author of the Baby Loves Science series, published by Charlesbridge. These adorably illustrated board books contain expert-reviewed science, yet are simple enough for the very youngest readers. Another new picture book series, Made by Maxine, will be published by Penguin/Dial beginning in 2018. Her debut picture book, Lester Fizz, Bubble-Gum Artist (Dutton), won awards from Writer's Digest and Willamette Writers and was a Bank Street College of Education Best Book of the Year. Ruth is a frequent speaker at schools and conferences, and recent presentations include the Early Childhood STEM Conference at CalTech and the Los Angeles Times Festival of Books.

Irene Chan is the illustrator of Baby Loves Quarks! and Baby Loves Aerospace Engineering! She is also an art director, designer, artist, and amateur photographer. She currently lives in Atlanta, GA. Visit Irene at www.eneri.net.
215-862-2452
farleysbookshop@netscape.net
Situated on the main street of the historic Delaware Riverfront town of New Hope, Pennsylvania, Farley's Bookshop and its knowledgeable, experienced staff have endeavored to satisfy the literary tastes of the area inhabitants for over fifty years. Whether you are Bucks County born-and-bred or just stopping by to enjoy the crisp river air and delightful scenery, you will be pleasantly surprised to find the largest and most diverse collection of books-in-print in Bucks County. Farley's may have competition, but it has few peers. We encourage you to browse our website, but please remember that getting acquainted with our online persona is no substitute for exploring the narrow passageways and teeming shelves of our storefront and discovering that perfect book nestled amongst so many others.