Bonnie's Rocket (Hardcover)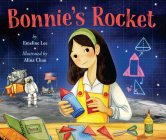 $20.95

Usually Ships in 1-5 Days
Description
---
"In a fresh perspective on events that changed the universe, Bonnie's Rocket reveals to readers that STEM is at its most powerful when it is personal." --Andrea Beaty, New York Times bestselling author of Rosie Revere, Engineer
Bonnie's father is an engineer for the Apollo 11 space mission. Bonnie is an engineer too, developing a model rocket that she plans to shoot high into the sky. While Baba works on the moon-landing module far away, Bonnie designs, builds, and tests her own project -- with sometimes disastrous results Throughout the process, Baba's letters encourage her in her work, and after the astronauts return from the moon, Baba comes home in time to see Bonnie launch her amazing rocket.
Inspired by the experiences of the author's grandfather, who helped design the space suits and life-support systems on the Apollo 11 lunar module, Bonnie's Rocket celebrates the diverse team that contributed to one of the United States's greatest achievements. It's also a heartwarming father-daughter story and a terrific gift for budding engineers and space fans of all ages.
About the Author
---
Emeline Lee grew up hearing stories about her grandfather's work on the Apollo 11 moon landing, which inspired her own fascination with science. She studied English literature and environmental sustainability at Columbia University, and she now works in the renewable energy sector in New York City. This is her first picture book. Find her on the web at emelinelee.com and follow her on social media at @EmelineLeeBooks. Alina Chau dreamed of being an astronaut when she grew up, but instead went on to a career as an award-winning artist and filmmaker. She illustrated The Nian Monster, which received the 2018 APALA Picture Book Honor, alongside many other beautiful picture books. Her animation credits include Star Wars: The Clone Wars; and numerous best-selling games. She lives in southern California. Visit her website at alinachau.com and find her on Instagram at @alinachau.
215-862-2452
farleysbookshop@netscape.net
Situated on the main street of the historic Delaware Riverfront town of New Hope, Pennsylvania, Farley's Bookshop and its knowledgeable, experienced staff have endeavored to satisfy the literary tastes of the area inhabitants for over fifty years. Whether you are Bucks County born-and-bred or just stopping by to enjoy the crisp river air and delightful scenery, you will be pleasantly surprised to find the largest and most diverse collection of books-in-print in Bucks County. Farley's may have competition, but it has few peers. We encourage you to browse our website, but please remember that getting acquainted with our online persona is no substitute for exploring the narrow passageways and teeming shelves of our storefront and discovering that perfect book nestled amongst so many others.