Blast Off (Hardcover)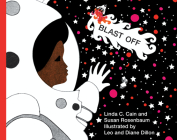 Description
---
An inspiring story about a young Black girl who wants to be an astronaut, written years before Black astronauts were sent into space. This remarkable picture book has been out of print for decades, until now.

First published in 1973, a year after the final Apollo mission, when American astronauts were exclusively white and male, Blast Off is the story of a young African American girl with a vision and a mission.

Regina Williams wants to be an astronaut. One day she's drawing a picture of a rocket ship on the sidewalk when her friends come by and start to tease her. "You'll never be an astronaut," they say.

In reply, she builds her own spaceship with old boxes, pipes, and cans. Before long she's in space, her eyes wide with wonder at the smallness of the blue-green Earth, the blackness of space, the stars and satellites. When she comes back down to earth, her friends don't believe her, but she knows her dream is real.

An inspiring story of interstellar space travel with illustrations by the legendary Diane and Leo Dillon.
About the Author
---
Linda C. Cain and Susan Rosenbaum's Blast Off was illustrated by Leo (1933–2012) and Diane Dillon. The Dillons worked together on more than 50 children's books and were awarded the Lifetime Achievement Award by the Society of Illustrators in 2008.
Praise For…
---
"[An] extraordinarily imaginative little book. . . . Blast Off endures as a heartening antidote to a culture that all too frequently contains and confines children's dreams by selling them lesser visions of the possible, failing to cultivate in them the essential capacity to imagine immensities." —Maria Popova, Brain Pickings

"Blast Off is fantastic." —Betsy Bird
215-862-2452
farleysbookshop@netscape.net
Situated on the main street of the historic Delaware Riverfront town of New Hope, Pennsylvania, Farley's Bookshop and its knowledgeable, experienced staff have endeavored to satisfy the literary tastes of the area inhabitants for over fifty years. Whether you are Bucks County born-and-bred or just stopping by to enjoy the crisp river air and delightful scenery, you will be pleasantly surprised to find the largest and most diverse collection of books-in-print in Bucks County. Farley's may have competition, but it has few peers. We encourage you to browse our website, but please remember that getting acquainted with our online persona is no substitute for exploring the narrow passageways and teeming shelves of our storefront and discovering that perfect book nestled amongst so many others.