Going Down Home with Daddy (Compact Disc)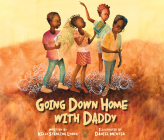 Description
---
On reunion morning, we rise before the sun. Daddy hums as he packs our car with suitcases and a cooler full of snacks. He says there's nothing like going down home." Down home is Granny's house. Down home is where Lil' Alan and his parents and sister will join great-grandparents, grandparents, aunts, uncles, and cousins. Down home is where Lil' Alan will hear stories of the ancestors and visit the land that has meant so much to all of them. And down home is where all of the children will find their special way to pay tribute to family history. All the kids have to decide on what tribute to share, but what will Lil' Alan do? A supplemental PDF is included with this audiobook.
215-862-2452
farleysbookshop@netscape.net
Situated on the main street of the historic Delaware Riverfront town of New Hope, Pennsylvania, Farley's Bookshop and its knowledgeable, experienced staff have endeavored to satisfy the literary tastes of the area inhabitants for over fifty years. Whether you are Bucks County born-and-bred or just stopping by to enjoy the crisp river air and delightful scenery, you will be pleasantly surprised to find the largest and most diverse collection of books-in-print in Bucks County. Farley's may have competition, but it has few peers. We encourage you to browse our website, but please remember that getting acquainted with our online persona is no substitute for exploring the narrow passageways and teeming shelves of our storefront and discovering that perfect book nestled amongst so many others.