Today Is Different (Hardcover)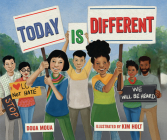 $17.99

Usually Ships in 1-5 Days
Description
---
Standing together makes all of us stronger.
Mai, a young Hmong girl, and Kiara, a young Black girl, are best friends. They do everything together--riding the bus, eating lunch, playing at recess. But one day Kiara misses school and Mai goes looking for answers. When she learns that her best friend is protesting an act of police violence against the Black community, Mai decides to join the protest too. Her parents at first want to protect her by keeping her at home, but she shows them that standing together makes all of us stronger.
Written by author and actor Doua Moua, who played Po in Disney's live-action Mulan, this picture book provides an inspiring look at the value of allyship and solidarity with Black Lives Matter.
215-862-2452
farleysbookshop@netscape.net
Situated on the main street of the historic Delaware Riverfront town of New Hope, Pennsylvania, Farley's Bookshop and its knowledgeable, experienced staff have endeavored to satisfy the literary tastes of the area inhabitants for over fifty years. Whether you are Bucks County born-and-bred or just stopping by to enjoy the crisp river air and delightful scenery, you will be pleasantly surprised to find the largest and most diverse collection of books-in-print in Bucks County. Farley's may have competition, but it has few peers. We encourage you to browse our website, but please remember that getting acquainted with our online persona is no substitute for exploring the narrow passageways and teeming shelves of our storefront and discovering that perfect book nestled amongst so many others.