The Royal Gardens at Highgrove (Hardcover)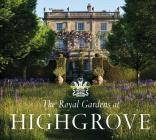 Description
---
With a foreword by His Royal Highness Prince Charles, this lavishly illustrated book brings together the history of Highgrove and its gardens.

When Prince Charles first moved into Highgrove, the gardens were a blank canvas and His Royal Highness an inexperienced gardener. Now, nearly forty years later, through hard work and passion, not only has he become an accomplished gardener, but the grounds of his home in Gloucestershire, England, have been transformed into one of the most remarkable gardens in Britain, delighting visitors from all around the world.

With a foreword by His Royal Highness, this lavishly illustrated book brings together the history of Highgrove and the myriad gardens that he has created which reflect his interests: architecture, the arts, conservation, a belief in organic principles, and, quite simply, his love of nature all play their part. There are surprises, too: as Prince Charles loves to experiment, his garden is one that constantly evolves as new ideas take shape. The Sundial Garden, Cottage Garden, Thyme Walk, Terrace, Kitchen Garden, Stumpery, Arboretum, Sanctuary, Wildflower Meadow, and more are here to explore and enjoy.
About the Author
---
Gill Knappett is a well-established author with twenty years experience working for publishing houses. Her previous titles include Charles: Prince of Wales, The Queen at 90: A Royal Birthday Souvenir, and Walk London. HRH Charles, Prince of Wales is the heir apparent to the British throne as the eldest child of Queen Elizabeth II. He has been Duke of Cornwall and Duke of Rothesay since 1952, and is the oldest and longest-serving heir apparent in British history.
215-862-2452
farleysbookshop@netscape.net
Situated on the main street of the historic Delaware Riverfront town of New Hope, Pennsylvania, Farley's Bookshop and its knowledgeable, experienced staff have endeavored to satisfy the literary tastes of the area inhabitants for over fifty years. Whether you are Bucks County born-and-bred or just stopping by to enjoy the crisp river air and delightful scenery, you will be pleasantly surprised to find the largest and most diverse collection of books-in-print in Bucks County. Farley's may have competition, but it has few peers. We encourage you to browse our website, but please remember that getting acquainted with our online persona is no substitute for exploring the narrow passageways and teeming shelves of our storefront and discovering that perfect book nestled amongst so many others.