M Is for Mitten: A Michigan Alphabet (Discover America State by State) (Hardcover)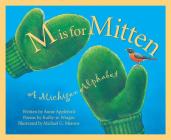 $18.99

Usually Ships in 1-5 Days
Description
---
Where was the first mile of highway paved? Who was the 38th President of the United States? What is the nation's most remote National Park? What was the first bottled soda pop in this country? Find the answers to these questions and many more in M is for Mitten: A Michigan Alphabet. Author Annie Appleford has written M is for Mitten: A Michigan Alphabet to acquaint children with the most important people, places and items that have helped mold Michigan into the tremendous state it is. Rich with gorgeous paintings by Michigan artist Michael Monroe, M is for Mitten is both educational for older children and entertaining for youngsters who will surely be dazzled by the diverse and colorful illustrations from cover to cover. Kids can climb an Evergreen tree, hop on the back of a Robin, fly with him of the Mackinac Bridge through the Upper Peninsula for a visit to Isle Royale, before going to Detroit to drink Vernor's and then to Battle Creek to eat Kellogg's cereal. They can paddle in a birch bark canoe with Native Americans in and out of our many Harbors and then head to Lansing for a visit to the Capital. M is for Mitten: A Michigan Alphabet is an all expense paid trip from shore to shore through the Great Lakes State, and you won't need a map - just look at your hand.
215-862-2452
farleysbookshop@netscape.net
Situated on the main street of the historic Delaware Riverfront town of New Hope, Pennsylvania, Farley's Bookshop and its knowledgeable, experienced staff have endeavored to satisfy the literary tastes of the area inhabitants for over fifty years. Whether you are Bucks County born-and-bred or just stopping by to enjoy the crisp river air and delightful scenery, you will be pleasantly surprised to find the largest and most diverse collection of books-in-print in Bucks County. Farley's may have competition, but it has few peers. We encourage you to browse our website, but please remember that getting acquainted with our online persona is no substitute for exploring the narrow passageways and teeming shelves of our storefront and discovering that perfect book nestled amongst so many others.