Roses and Rose Gardens (Hardcover)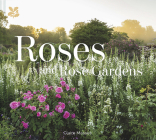 $24.95
Email or call for price
Description
---
From the author of very successful Secret Gardens, this is a visually stunning celebration of England's favorite flower: its long history and rich symbolism; the beauty and diversity of its flowers, foliage and habitat; its wonderful fragrances; and, above all, its amazing versatility.

The National Trust owns many of the most famous and beloved rose gardens in this country, including Mottisfont, which has over 500 varieties, and the legendary Sissinghurst, where all NT gardeners are sent to learn the art of rose pruning. As well as showcasing 25 of these gardens, the book spotlights 20 varieties of rose to talk about in detail, describing the individual quality of each rose - why it makes it a good choice, where you can
grow it and suggestions on how you might combine it with other plants.
About the Author
---
Claire Masset is currently the Guidebooks Publisher for the National Trust. She was formerly the Gardens Editor of The English Garden Magazine and freelance journalist for publications including Country Life and Gardens Illustrated. She is the author of Department Stores, Orchards and Tea for Shire Publishing.
Situated on the main street of the historic Delaware Riverfront town of New Hope, Pennsylvania, Farley's Bookshop and its knowledgeable, experienced staff have endeavored to satisfy the literary tastes of the area inhabitants for over fifty years. Whether you are Bucks County born-and-bred or just stopping by to enjoy the crisp river air and delightful scenery, you will be pleasantly surprised to find the largest and most diverse collection of books-in-print in Bucks County. Farley's may have competition, but it has few peers. We encourage you to browse our website, but please remember that getting acquainted with our online persona is no substitute for exploring the narrow passageways and teeming shelves of our storefront and discovering that perfect book nestled amongst so many others.