Cottage Gardens: A Celebration of Britain's Most Beautiful Cottage Gardens, with Advice on Making Your Own (Hardcover)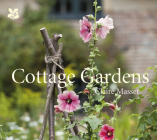 $19.95
Email or call for price
Description
---
The cottage garden's abundant, informal style is rooted in Victorian dreams of a perfect country life, but has found new expressions from the Arts and Crafts movement to the present day. This book showcases many cottage gardens both famous and obscure, including writer Thomas Hardy's cottage in Dorset; the flower-filled cottage garden created at Sissinghurst, Kent, by Vita Sackville-West and Harold Nicolson; Beatrix Potter's Cumbrian home, Hill Top, and the picturesque Alfriston Clergy House in East Sussex. Practical advice on creating your own cottage garden is also offered, including key plants and techniques.

With climbing roses, bright hollyhocks, pathways edged with honeysuckle, blossom-filled orchards, and wildflower meadows, this is the perfect book to capture the idyllic British country garden and a wonderful companion for all cottage-garden enthusiasts.
About the Author
---
Claire Masset is currently the Guidebooks Publisher for the National Trust. She was formerly the Gardens Editor of the English Garden Magazine and freelance journalist for publications including Country Life and Gardens Illustrated. She is the author of Secret Gardens and Roses and Rose Gardens for the National Trust as well as Department Stores, Orchards, and Tea for Shire Publishing.
215-862-2452
farleysbookshop@netscape.net
Situated on the main street of the historic Delaware Riverfront town of New Hope, Pennsylvania, Farley's Bookshop and its knowledgeable, experienced staff have endeavored to satisfy the literary tastes of the area inhabitants for over fifty years. Whether you are Bucks County born-and-bred or just stopping by to enjoy the crisp river air and delightful scenery, you will be pleasantly surprised to find the largest and most diverse collection of books-in-print in Bucks County. Farley's may have competition, but it has few peers. We encourage you to browse our website, but please remember that getting acquainted with our online persona is no substitute for exploring the narrow passageways and teeming shelves of our storefront and discovering that perfect book nestled amongst so many others.