Body Language Decoder: 50 Cards To Reveal What They're Really Thinking (Magma for Laurence King) (Game)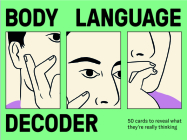 $16.99

Usually Ships in 1-5 Days
Description
---
Learning to decode nonverbal communication can help us understand other people's thoughts and feelings, and it can help us make ourselves better understood too. Whether it's friends, family or lovers, colleagues or strangers, there is a wealth of meaning in the body language of those around us and most of us aren't even aware it exists – Body Language Decoder can help you tap into it. Being able to gauge more easily what a client or colleague is truly thinking or your partner is truly feeling will open up a world of understanding and communication.
About the Author
---
Martin Brooks is an experienced communication coach and trainer. He has always been fascinated by the reading of body language and how it can help us to understand people better and communicate more effectively.

In 2002 Martin set up his own communication consultancy. He helps his clients to create compelling communication through online videos, group workshops, and one-to-one coaching. Martin's body language analysis has been seen on the BBC, LBC Radio, and the Discovery Channel.
Praise For…
---
"Created by Martin Brooks, this set of cards will help you unlock the secrets of what people are thinking, by learning to read their unconscious body language. Anyone who has a client they find difficult to read will love this gift!" -Creative Boom,


"So begins the psychologically arduous experience that is Body Language Decoder, one of the most deliciously twisted and enjoyably clear reads on communicative techniques I've read in the last couple of years." - Vents Magazine,

215-862-2452
farleysbookshop@netscape.net
Situated on the main street of the historic Delaware Riverfront town of New Hope, Pennsylvania, Farley's Bookshop and its knowledgeable, experienced staff have endeavored to satisfy the literary tastes of the area inhabitants for over fifty years. Whether you are Bucks County born-and-bred or just stopping by to enjoy the crisp river air and delightful scenery, you will be pleasantly surprised to find the largest and most diverse collection of books-in-print in Bucks County. Farley's may have competition, but it has few peers. We encourage you to browse our website, but please remember that getting acquainted with our online persona is no substitute for exploring the narrow passageways and teeming shelves of our storefront and discovering that perfect book nestled amongst so many others.