Endangered Animals Bingo: Learn About 64 Threatened Species That Need Our Help (Game)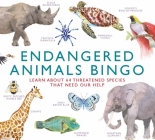 Description
---
FUN FOR THE WHOLE FAMILY – everyone will love this traditional game featuring 64 of the world's best loved at-risk creatures to learn about and get inspired to save;
PLAY AND LEARN – this board game comes with a leaflet with interesting information and quirky facts for all the endangered animals featured in the game. Learn about the okapi, the whale shark and the southern sea otter and be inspired to take action.
GREAT GIFT – perfect for animal or conservation lovers of all ages, for families who love playing games, and for families who enjoy spending quality time together;
SOMETHING TO TREASURE – this is a quality product made to last, with beautiful illustrations and attractive packaging;
EXPLORE THE ENTIRE SERIES – this game is part of the bestselling bingo series, a collection of games for nature lovers and enthusiastic board gamers. Other games in the series include Bug Bingo, Cat Bingo, Dog Bingo, Monkey Bingo, Ocean Bingo and Royal Bingo.
About the Author
---
Marcel George is a London-based illustrator who specializes in creating hand-painted contemporary watercolor illustrations. His clients include the Financial Times, Stella Artois and Anthropologie.
Situated on the main street of the historic Delaware Riverfront town of New Hope, Pennsylvania, Farley's Bookshop and its knowledgeable, experienced staff have endeavored to satisfy the literary tastes of the area inhabitants for over fifty years. Whether you are Bucks County born-and-bred or just stopping by to enjoy the crisp river air and delightful scenery, you will be pleasantly surprised to find the largest and most diverse collection of books-in-print in Bucks County. Farley's may have competition, but it has few peers. We encourage you to browse our website, but please remember that getting acquainted with our online persona is no substitute for exploring the narrow passageways and teeming shelves of our storefront and discovering that perfect book nestled amongst so many others.