Charting Through the Old Testament: A Visual Overview of Biblical History (Hardcover)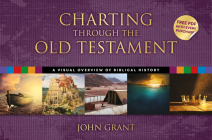 $34.99

Usually Ships in 1-5 Days
Description
---
This book is the result of years of work from the pen of John Grant (former editor of the Believer's Magazine). He expressed his wish before the Lord called him home, that these charts, and the supporting text be published, and the staff at John Ritchie have spent many hours in the colation, typesetting and design of the original material in order to publish this beautifully illustrated legacy to his work. The 72 charts provide a panoramic view of the Old Testament and on biblical themes, for example "The Seven Days of Creation", "Chronology from Adam and Noah", and the "Kings of the Old Testament". This hardback edition with fully illustrated gloss colour artwork is a beautiful table top production, and a fatastic resource for new Believers and Bible Scholars alike, and will make an ideal gift.
215-862-2452
farleysbookshop@netscape.net
Situated on the main street of the historic Delaware Riverfront town of New Hope, Pennsylvania, Farley's Bookshop and its knowledgeable, experienced staff have endeavored to satisfy the literary tastes of the area inhabitants for over fifty years. Whether you are Bucks County born-and-bred or just stopping by to enjoy the crisp river air and delightful scenery, you will be pleasantly surprised to find the largest and most diverse collection of books-in-print in Bucks County. Farley's may have competition, but it has few peers. We encourage you to browse our website, but please remember that getting acquainted with our online persona is no substitute for exploring the narrow passageways and teeming shelves of our storefront and discovering that perfect book nestled amongst so many others.