In Good Company (Notable People with their Pets) (Hardcover)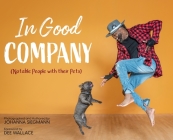 $42.00

Usually Ships in 1-5 Days
Description
---
FOREWORD
By Actor/healer/author Dee Wallace
Johanna Siegmann is a force to be reckoned with in this world I first met Johanna when she hired me to star in a play that she was directing. I fell in love with her insight, her creativity, and her vision. Her ability to connect with the simplest theme and spin it into artistic achievement impressed me beyond measure. And her love for animals bonded us forever.
We became fast friends. Lasting friends. It's hard to not create a friendship when you meet someone who also must stop to say hi to every dog on the path-whether it is the path to the plane or the path to an art show. What interested me even more, was that Johanna tapped into the owners of those dogs as much as the dog itself. She saw the bond between all animals and the love of their owners for them. And that magical artistry of expanding that out into a moving visual vision is what this book is all about.
Johanna really gets to know her subjects, whether animal or human, and dives into the personality and statement each one represents. When she shot my beloved Freedom and me, she asked many questions about how we played together, how we bonded, and how we filled each other's life with love and joy. Freedom's favorite two things in the world are walks and playing with balls. So that is what we did Not a stationary portrait, but a capturing of the fun and frolic from our everyday lives. And the picture we got was an amazing moment in time of...Us. Not just a staged portrait shot, but a memory of a real-life moment to treasure.
All the pictures in this book represent moments in the lives of pets and their owners. Take time. Feel into the celebrations of life made throughout this book. It is a magical ride of love for us all
From the Publisher
"In Good Company (Notable People with their Pets)" by photographer, Johanna Siegmann is a rare collection of unique portraits, portraying everyday tender heartfelt moments between people with their pets. The images are both intimate and familiar, whimsical, touching, often humorous, and always genuine. Johanna uses personal details, provided by her human subjects, to create concepts for their portrait, resulting in images that are highly specific and unique to each person. As a result, her pet portraits are in a unique category of their own, focusing exclusively on the connection between two beings that care for each other, and how they express that love. Siegmann has the rare ability to capture that very special moment in time with exuberance and joy, highlighting the love between her "notable" subjects and their pets. With a background in theater, Johanna's photography is known for her exceptional use of lighting, which has also influenced her use of color and textures. This collection features notables from the world of entertainment, music, science, and everything in between. It's a coffee table book that you will need two of because the first one will wear out
"Being photographed by Johanna Siegmann is a joy and a privilege, the resultant photo a treasure." - Norman Lear, producer
"Johanna caught the perfect shot, and notwithstanding lots of technical difficulties. The photo is just beautiful and I will treasure it. She really captured Mia, and her loving and playful demeanor." - Congressman Adam Schiff
"LOVED working with photographer Johanna Siegmann. Wow. Her stuff is off the charts." - Lu Parker, KTLA news anchor
215-862-2452
farleysbookshop@netscape.net
Situated on the main street of the historic Delaware Riverfront town of New Hope, Pennsylvania, Farley's Bookshop and its knowledgeable, experienced staff have endeavored to satisfy the literary tastes of the area inhabitants for over fifty years. Whether you are Bucks County born-and-bred or just stopping by to enjoy the crisp river air and delightful scenery, you will be pleasantly surprised to find the largest and most diverse collection of books-in-print in Bucks County. Farley's may have competition, but it has few peers. We encourage you to browse our website, but please remember that getting acquainted with our online persona is no substitute for exploring the narrow passageways and teeming shelves of our storefront and discovering that perfect book nestled amongst so many others.