Can I Give You a Squish? (Hardcover)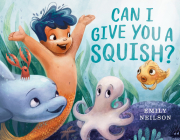 $18.99

Usually Ships in 1-5 Days
Description
---
An important lesson on consent for over-exuberant little huggers, nestled inside this lighthearted, summery story about expressions of love and friendship.

Kai is a little mer-boy who's big on hugs--or "squishes," as he and his mama call them. But not everyone's a fan of Kai's spirited embrace, which he discovers soon after squishing a puffer fish, who swells up in fright! Kai feels awful; but with the help of his friends, he figures out another way to show his affection, and then everyone demonstrates their preferred ways of being greeted. Because, as Kai realizes, "Every fish likes their own kind of squish."
About the Author
---
Emily Neilson is a graduate of the Rhode Island School of Design, now working at an animation studio in Portland, Oregon.
Praise For…
---
★ "[A] subaqueous tale gently teaching consent...[and] offering young readers a visual lesson in empathy... Both fun and educational." ―PW starred review
"Perfect for young students who are learning about friendship…. This inclusive and heartwarming book is an essential addition to any library collection for young children." ―SLJ

"Playful yet clear...and the triumphant realization that 'every fish likes their own kind of squish!"' has high potential as a long-lasting and repeatable reminder." ―BCCB

"[A] rollicking undersea adventure...The back cover carries the overridingmessage: 'All you have to do is ask.' A fun lesson." ―Booklist

"Humor...helps the intentionally instructive text avoid preachiness. A mostly nifty vehicle to teach little ones about personal space, respect, consent, and bodily autonomy." ―Kirkus
Situated on the main street of the historic Delaware Riverfront town of New Hope, Pennsylvania, Farley's Bookshop and its knowledgeable, experienced staff have endeavored to satisfy the literary tastes of the area inhabitants for over fifty years. Whether you are Bucks County born-and-bred or just stopping by to enjoy the crisp river air and delightful scenery, you will be pleasantly surprised to find the largest and most diverse collection of books-in-print in Bucks County. Farley's may have competition, but it has few peers. We encourage you to browse our website, but please remember that getting acquainted with our online persona is no substitute for exploring the narrow passageways and teeming shelves of our storefront and discovering that perfect book nestled amongst so many others.