Snow Powder: Skiing and Snowboarding (Hardcover)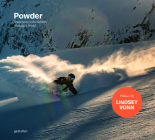 $65.00

Coming Soon - Available for Pre-Order Now
Description
---
Get ready to hit the slopes with Snow Powder, showcasing some of the world's best destinations for skiing, snowboarding, and more.
Created in collaboration with Red Bull, this visually stunning book takes you on a journey through breathtaking landscapes, from iconic locations to hidden gems, and reveals the pure, contemplative beauty of snowcapped mountains.
With a mix of action-packed images featuring celebrated snow athletes and contemplative nature shots, Snow Powder captures the exhilarating marriage between space and sport. Explore the Alps, Scandinavia, North America, and Asia through their unique natural wonders, while connecting with top athletes who have conquered the world's most challenging snowfields.
In addition to being a feast for the eyes, Snow Powder is also an inspirational guide, providing practical tips, maps, and travel information to help you plan your ultimate snowy adventure. Whether you're a seasoned pro or a first-time snow sport enthusiast, this book will enthrall you with the thrill and beauty of winter sports.
Situated on the main street of the historic Delaware Riverfront town of New Hope, Pennsylvania, Farley's Bookshop and its knowledgeable, experienced staff have endeavored to satisfy the literary tastes of the area inhabitants for over fifty years. Whether you are Bucks County born-and-bred or just stopping by to enjoy the crisp river air and delightful scenery, you will be pleasantly surprised to find the largest and most diverse collection of books-in-print in Bucks County. Farley's may have competition, but it has few peers. We encourage you to browse our website, but please remember that getting acquainted with our online persona is no substitute for exploring the narrow passageways and teeming shelves of our storefront and discovering that perfect book nestled amongst so many others.