El jardín del abuelo (Álbumes) (Hardcover)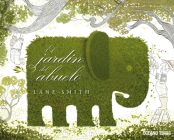 Description
---
El abuelo está en su jardín. No, él no siempre fue jardinero. También fue un niño que se crió en una granja, tuvo varicela, dio su primer beso, fue un soldado, y sobre todo fue un artista. Pero ahora ya no recuerda muchas cosas. . . Por eso pasa las horas en su jardín, podando los setos y arbustos. Y gracias a eso su bisnieto puede revivir el pasado del abuelo al recorrer las caprichosas formas de los árboles. Visitar el jardín del abuelo es habitar y aproximar lugares que cualquiera pensaría inalcanzables. Un libro tan enigmático como bello, que explora las formas de comunicación que vencen al envejecimiento y el olvido. Un libro para leer, y releer, con los hijos, los nietos y los bisnietos.

Grandpa is in his garden. No, he wasn't always a gardener. He was also a boy who grew up on a farm, had chicken pox, had his first kiss, became a soldier, and above all, was an artist. But now he doesn't remember much. That's why he spends his time in his garden, pruning the hedges and shrubs. As a result, his great-grandson can relive his past by studying the whimsical shapes of the trees. Visiting grandpa's garden means inhabiting places he never thought possible. This book, both enigmatic and beautiful, explores forms of communication that supercede aging and forgetting.
About the Author
---
Lane Smith is an American writer and illustrator who specializes in reinventions of classic stories. He studied art at the Art Center College of Design in Pasadena, California.
Praise For…
---
"In this affecting picture book, a boy recounts the life of his beloved great-grandfather . . . The author's illustrations, a blend of line drawings and sponge painting, have a classic feel, and make clever use of the topiary theme, rewarding close examination and repeated reading." —The New Yorker, on the English language edition
"Great-grandpa's memory may be going, but the past remains vibrantly alive in the playful topiaries that decorate his brilliantly green yard. Lush and magical." —People, on the English language edition
"An unassuming little masterpiece . . . the book's power lies in its rich, allusive artistry." —New York Times Book Review, on the English language edition
"It's a rare glimpse into Smith's softer side—as skillful as his more sly offerings, but crafted with honesty and heart." —Publishers Weekly Starred Review, on the English language edition
"Visually intriguing and emotionally resonant, this is a book to pore over and talk about. With each subsequent reading, it offers new layers of meaning and visual connections." —School Library Journal Starred Review, on the English language edition
"Opening this book is like opening a gate to a secret garden, filled with the treasures of a life well lived. In his portrait of a boy who adores and honors his forgetful great-grandfather, Smith shows us that the things that are meaningful to the ones we love become part of our garden, too."—Shelf Awareness, on the English language edition
"Though this book has lots of adult appeal, it will also be a wonderful bridge to exploring family history with the very young." —Kirkus Reviews, on the English language edition
"Sketched with a finely lined fairy-tale wispiness and dominated by verdant green, the illustrations are not just creative but poignant." —
Booklist
, on the English language edition
215-862-2452
farleysbookshop@netscape.net
Situated on the main street of the historic Delaware Riverfront town of New Hope, Pennsylvania, Farley's Bookshop and its knowledgeable, experienced staff have endeavored to satisfy the literary tastes of the area inhabitants for over fifty years. Whether you are Bucks County born-and-bred or just stopping by to enjoy the crisp river air and delightful scenery, you will be pleasantly surprised to find the largest and most diverse collection of books-in-print in Bucks County. Farley's may have competition, but it has few peers. We encourage you to browse our website, but please remember that getting acquainted with our online persona is no substitute for exploring the narrow passageways and teeming shelves of our storefront and discovering that perfect book nestled amongst so many others.